Info Junkie: Expression finder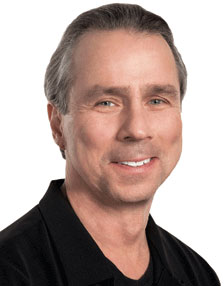 Howard Tullman, 62, is an art collector, educator and serial tech entrepreneur. His latest project, Flashpoint: the Academy of Media Arts and Sciences - a college for game design and other digital arts - just opened in the Loop's Burnham Center. When he isn't blogging, reading 500 daily e-mails or updating his online database of 10,000 "words of wisdom," he likes:
Six days a week, runs on the treadmill in front of his 120-inch home theater screen. "I watch half a movie each morning." Among 3,000 DVDs, "Forrest Gump" stands out, especially when the title character realizes he fathered a son. "I can't watch that without crying, every time," says the father of two and grandfather of three.
"60 Minutes" is "still the best news magazine out there." A recent segment, "Get me the geeks," highlighted the kinds of workers Flashpoint will produce. "I TiVo'd it, uploaded it, then sent it to people involved with the school. That's probably an ungodly violation of copyright or something, but it wasn't for commercial purposes."
Zazzle.com's custom T-shirts for motivation. He gave the Flashpoint construction crew shirts featuring hourglass art and a quote about time.
Reads five to 10 books a month, half business, half thrillers. Also dozens of magazines, but only after ripping out the ads. "It makes them a third the size, so you can carry a lot on planes." Devours the New York Times. Drops everything when Vanity Fair and New American Paintings (a juried exhibition-in-print) arrive.
A longtime amateur magician, he digs magic catalogs. And on his iPod: "7,331 songs. All legal. Every genre."
©2007 by Crain Communications Inc.