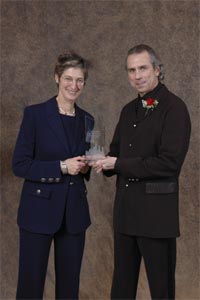 March 17, 2006
Howard A. Tullman, General Managing Partner of Chicago High Tech Investors LLC is Inducted into Chicago Area Entrepreneurship Hall of Fame at University of Illinois at Chicago
Chicago, IL Howard A. Tullman, general managing partner of Chicago High Tech Investors, LLC, has been inducted into the Chicago Area Entrepreneurship Hall of Fame at the University of Illinois at Chicago
The Chicago Area Entrepreneurship Hall of Fame is part of the the Institute for Entrepreneurial Studies at the UIC College of Business Administration, one of the nation's leading centers for entrepreneurship teaching and research. Tullman was one of 29 new members inducted at a ceremony held on Wednesday, March 1 at the Chicago Hilton and Towers. It was the 21st year the awards have been given by the Institute.
"Entrepreneurship is one of the most important engines of the American economy," said Stefanie Lenway, Dean and Professor of Managerial Studies at the UIC College of Business Administration. "The Entrepreneurship Hall of Fame recognizes innovators and leaders in the Chicago area. Those selected each year are men and women who have demonstrated entrepreneurial talent by founding or growing a business in the Chicago area."
"The members of the Entrepreneurship Hall of Fame represent those with the courage to chart their own course and by doing that inject vitality, optimism, and creativity into the business climate of the Chicago region," said Dr. Gerry E. Hills, Executive Director of the Institute for Entrepreneurial Studies and Coleman Professor of Entrepreneurship at the UIC College of Business Administration.
Two special awards were given during the ceremonies. A Lifetime Achievement Award was given to Edward and Bettiann Gardner of Chicago, founders of Soft Sheen Products. The Hall of Fame's first Excellence In Entrepreneurship Award was given to Michael W. Hennessy, president of the Coleman Foundation, which has provided core financial support to the UIC Institute for Entrepreneurial Studies.
Grant Thornton LLP, Houlihan Lokey Howard & Zukin, the Illinois Department of Commerce and Economic Opportunity, LaSalle Bank, Levy Venture Management, Inc., Seyfarth Shaw LLP, and UIC's Institute for Entrepreneurial Studies are sponsors of the Entrepreneurship Hall of Fame awards event.
###
Information about:
Howard Tullman
Chicago High Tech Investors, LLC
Howard Tullman is General Managing Partner for Chicago High Tech Investors, LLC. He has over 30 years of management and turn-around experience and an extensive operations background in online services, large-scale information assembly and delivery systems, database design and the development, creation and production of all types and formats of multimedia content. He has designed and developed interactive interfaces, computer games and other electronic entertainment, training products and services, and various information-based products and services.
Mr. Tullman was previously the CEO of Worldwide Xceed Group, Inc., a Chicago-based provider of digital strategy and Internet design services. Prior to serving as CEO at Xceed, Mr. Tullman was the Chairman and CEO of Tunes.com, Inc., which operated the premier music mega-sites on the Internet. From 1993 through 1997, Mr. Tullman was the President and CEO of Imagination Pilots, Inc. (IP), a multimedia software developer specializing in CD-ROM games and entertainment products for the PC and Macintosh. Imagination Pilots was founded by Mr. Tullman in 1993. Immediately prior to founding Imagination Pilots, Mr. Tullman was the CEO and lead private investor in Eager Enterprises, Inc. (Eager), a privately held information industry venture capital firm which he founded in Chicago in 1990.
Prior to forming Eager, Mr. Tullman was the Chairman of Financial Protection Services, Inc. (FPSI), a privately held corporation providing computerized information to businesses and consumers. Mr. Tullman founded CCC Information Services, the largest subsidiary of FPSI, in 1980. CCC was the fastest growing company in Illinois from 1981 through 1985 as well as one of the top 100 fastest growing companies in the U.S. Mr. Tullman has also served as CEO of Information Kinetics, Inc., which developed and marketed a unique national computerized database of job candidates.