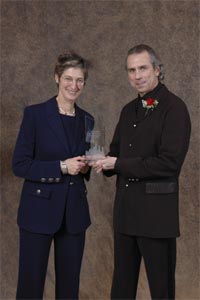 First, Iíd like to thank the Hall of Fame for this honor. The membership of the Hall of Fame is truly an elite group of Chicago movers and shakers and Iím flattered and honored to now be included among them.
I also want to congratulate my fellow inductees who more than anyone understand the sometimes painful process we all go through in creating and building businesses Ė large and small.
I used to say that the process was also solitary and even lonely, but Iíve changed my mind about that for two reasons:
First, Iíve been blessed with great teams of people to share my dreams and visions. Some of the most important are here tonight Ė newbies whoíve been with us for months and oldies (but goodies) whoíve spent a good 10 or 20 years by my side making things happen. Iím grateful to all of them and wouldnít be here without them.
The second reason this is no longer as lonely a job as it once was is because we have a great, connected community in Chicago (many of whom are members of the Hall of Fame) and every one of whom cares deeply about our city and our collective success. I can reach out to Mark Schulman for help in a million ways with the College; call Joe Mansueto to give me a hand finding a good new job for a great guy; ask Bruce Rauner to pitch in personally on a new venture, etc., etc. Life is a series of hellos and goodbyes, but in Chicago people stick around and stand up for each other when it matters. Itís the best place in the country to build a business.
Finally, I want to thank my wife, Judy, who has suffered thru more start-ups, stress and eventually happy endings than most of the people in this room. She has been my greatest fan, my harshest critic (when I get too full of myself Ė which happens very rarely), and a partner throughout in all of the ups and downs of 25 years of turmoil. I canít thank her enough and apparently (as she sometimes reminds me) I canít thank her often enough either.
Thanks again.