Flashpoint, an innovative concept in digital arts education, to open state-of-the-art Loop campus
A school as advanced as the digital arts and entertainment technologies being taught will open Sept. 17 in the historical Burnham building in the heart of Chicago's Loop.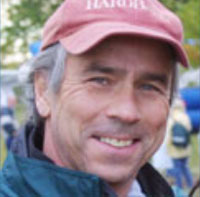 Howard Tullman,
the force behind new Flashpoint

Flashpoint, the Academy of Media Arts & Sciences will offer aggressive 40 hour, two-year programs focused on preparing students for jobs in the trillion-dollar digital entertainment industry.

Mayor Daley has been invited to walk across the street to from City Hall and cut the ribbon to the revolutionary new school, said Howard A. Tullman, a legendary figure in high-tech ventures who led the school's $15 million funding.

What makes the school breakthrough is its intense focus on only four inter-related disciplines in the ever-evolving, trillion dollar digital entertainment industry-Game Development, Computer Animation, Recording Arts and Film Production-in stark contrast with some visual arts schools that offer more than 100 courses.

Flashpoint is structured for "individuals with a passion for anything digital and a desire for creative expression," Tullman said, himself a super successful creative pioneer in games, music and digital entertainment.

Tullman is President/CEO and Ric Landry, an early stage business investor who brought the school concept to Tullman via a mutual connection, is board chairman and will be actively involved in recruiting students for the school.

Academic Dean Paula Froehle joined Flashpoint last month. A former tenured Columbia College film professor, who also had taught Filmmaking at the Art Institute, is an acclaimed filmmaker.

More than seven million dollar is being spent to shape a sleek, contemporary working facility from the ground-up. Completion is expected by Sept. 15.

"We've engineered our departments to simulate the industries our students will ultimately work in, not as a traditional school," said Tullman, as he displayed a staggering amount of space under construction-70,000 sq. ft. over two and a half floors.

Designed by the architectural firm of Valario Dewalt Train Associates, the facility will boast the most advanced state-of-the-art technology throughout-in classrooms, computer labs, recording facilities, Avid edit suites, mixing rooms, multiple sound stages, a theatre-like screening room, a motion capture studio, an information commons and student lounges.

Flashpoint has a long-term lease on what ultimately will be a six floor campus. Sound stages will be developed on three additional floors and Flashpoint will utilize the stages at Resolution Digital Studios until they are completed.

The object of such an imposing physical plant is to expose students to real-time professional working environments, Tullman said.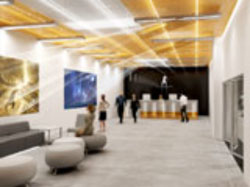 Artists rendering of Flashpoint's lobby

Flashpoint appeals to a different kind of student Based on her 17 years of teaching experience, Froehle believes Flashpoint's focused, accelerated curriculum is "ideally suited for individuals for whom a traditional four-year college education doesn't make sense, or maybe they got to a place that wasn't the best road for them."

Through her own struggles as teacher, Froehle said she "believes there's a better way of preparing students to go out in the world and give them the tools they need to step into jobs," like those at Flashpoint.

The corporate world, for one, has "significant demand" for the highly trained individual Flashpoint will turn out, said Tullman.

He has also arranged with two of the world's biggest companies, Electronic Arts games and Critical Mass interactive agency, "to will help Flashpoint with placement and have students work there."

He anticipates more such companies in need of fresh, new talent will follow suit. "The industry tells us, we want to put them in chairs."

Roughly 25 courses per each of the four disciplines will be taught by department heads and professionals who will provide the real-life, hands-on mentoring Froehle said she found lacking in traditional colleges.

The key faculty members, who also teach, are:
Simeon Peebler, Gaming Program Chair, who has developed many games through his own company
Perry Harovas, Computer Animation Program Chair, who has taught at New York University, and is moving from Connecticut
John Murray, Recording Arts Program Chair, a former Columbia College instructor for 12 years-"His approach to sound-for- pictures is an example of the integration of disciplines the academy advocates," noted Froehle.
Peter Hawley, Film Program Associate Chair, taught at Columbia College and is a producer of independent films
Tuition is competitive, Tullman said, and some assistance is available. A tour for prospective students, parents, teachers and counselors will be held Saturday, June 30, 10 a.m. to noon at the school, located at 28 N. Clark St. RSVP to lindsay.drucker@flashpointacademy.com or phone 312/332-0707.

To set up an interview, phone Mary Owczarski, at 312/332-0707, or Email mary.owczarski@flashpointacademy.com. See www.flashpointacademy.com.

-Ruth L Ratny