Howard Tullman Goes Back to School
The latest project from the guy who turned Kendall College around: a crash course in digital media called Flashpoint Academy.
September 7, 2007
By Deanna Isaacs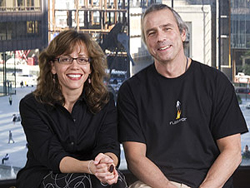 Paula Froehle and Howard Tullman

Big, eye-catching ads for Flashpoint Academy have cropped up all over recently, including the pages of the Reader. They began appearing a few months ago, promoting a school nobody'd ever heard of, anchored by nothing more than a phone number and a Web address. Under heads like "You Should Never Agree to Surrender Your Dreams" and "You Can Always Find Another Job.... Why Not Do Something You Love?" they've been touting "Chicago's first digital media arts college." Each ad ended with an invitation to "come see us for a tour and an interview," but none included a street address.

Turns out that was part of the strategy. "We're focusing on digital technology," says Paula Froehle, the school's dean. "The idea is to direct people to the Web site." Froehle, who gave up a tenured job at Columbia College, where she was associate dean of the film department, to go to Flashpoint in June, explains that it's a brand-new entity—"a two-year, high-end, immersive learning institution" that offers a hands-on, collaborative approach. And it does have a brick-and-mortar address: 28 N. Clark (the Burnham Center), where it has a 15-year lease and its own main-floor entry. Faster than Columbia, more artsy than DeVry, Flashpoint is offering training in four areas: filmmaking, game development, sound recording, and visual effects and animation. The plan is to confer associate degrees in those areas, but accreditation for the school could take as long as four years, Froehle says. Until then, graduates will earn certificates. Last spring, officials were projecting an initial enrollment of as many as 400, but Froehle is now expecting between 100 and 125 by the time classes begin on September 17. Long-range plans call for capping the student body at one thousand.

Froehle was recruited by Flashpoint's founder, Lake Forest investment banker Ric Landry (who got the idea a few years back when his son was scouting film schools), and its president, entrepreneurial phenom Howard Tullman. The last time Tullman appeared in the Reader, in April 2006, he'd engineered a turnaround for Kendall College—rescuing it from the brink of bankruptcy, selling its Evanston campus, and moving it to the former Sara Lee building on Goose Island. Since then he's arranged for Kendall's sale to international for-profit Laureate Education Inc., retired from his job there, and become involved in another education business, Experiencia World, where he's now chairman of the board. Experiencia, a for-profit developed in Kansas City, Missouri, by the founders of the Learning Exchange, offers programs for elementary schools that culminate in a day of role-playing opportunities at its own museumlike facilities. (A Chicago branch opened last year at Chicago and Halsted.) Tullman was approached six months ago as a potential investor in Flashpoint, but says he told them he wasn't interested because they needed someone experienced to run the place. After they came back and offered him the job, he became its largest backer and rainmaker, bringing in a total of $15 million to get it up and running in record time.

The school, with eight full-time faculty and a dozen part-timers, occupies the fifth and sixth floors of the building, and there are plans to construct a studio and other facilities on three additional floors. Until those are done, Flashpoint is renting a sound stage at Resolution Digital Studios on the west side. Students will put in a businesslike 40 hours every week, spending half their time in classes and labs at the Clark Street location and half at the studio, working on a yearlong, all-school project—this year it's a short film with a related, marketable game. Froehle says this apprenticeship with people in the field, "working on-site on a live, professional shoot," is part of what's unique about Flashpoint. Columbia was also founded on the idea of professionals teaching what they do, but she says that at Columbia now, as at other large schools with traditional, four-year programs, the hands-on experience tends to get postponed.

Tuition at Flashpoint is a hefty $25,000 a year. Because the school isn't accredited, there's not much in the way of government help (though Sallie Mae loans are available). "But it's only two years," Tullman says, and the school's offering some scholarships of its own to students, up to $10,000 per year. He says Flashpoint is practicing "intelligent admission"—as opposed to "open admissions," which he deplores. "I'm disgusted with schools that will take anybody who walks in the door as long as they can get the government to lend them money," he says. "The kids end up with no real employment prospects and deep in debt, and most of them don't even graduate. As far as I'm concerned, that model is a scam on everybody."

Tullman says this is the "first new school to open in the Loop in 50 years," and he expects it to be "the first of a wave" offering vocational education. There are "thousands of jobs going wanting" because we're not training people to fill them, he continues. And Flashpoint's students will get "wonderful job opportunities in the industries they're being trained for" and "a set of skills that will be valuable for just about any corporation in America." He says these kinds of jobs will not be outsourced anytime soon.

But animation jobs are already going to the Philippines, India, and other places where the pay is a fraction of what American workers get. Animation Guild business representative Steve Hulett says that while pre- and postproduction are usually still done in southern California, one-half to two-thirds of a typical animation-project budget is now being spent overseas. As for filmmaking, local gigs were so scarce a few years back that the state agreed to subsidize production. Justin Conway of the International Cinematographers Guild says, "These jobs are extremely competitive," both here and in industry hub California: "You don't come out with a degree and automatically find work." But Tullman says while the labor-intensive "pure computer-animation jobs will go offshore," film and sound "aren't going anywhere" and neither is the "intellectual-property part of game development."

Tullman says he wrote the catchy Flashpoint ads himself, and it's "been the most fun I've had" with the project. It'll be a good thing if the one that claims "You Can Always Get Another Job" is right.