Sure Payroll Interview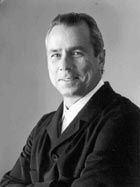 This month's interview is with Howard A. Tullman, a seasoned entrepreneur based in Chicago, Illinois with businesses in Seattle, Detroit and New York.
Howard has founded more than a half-dozen successful companies, taking them from concept to conquest — with what some have described as a Midas touch for startup ventures. As a sophisticated investor, Howard now continues to operate several businesses, invests in startup companies, and sits on numerous company boards. Currently, he is serving as the President of Chicago's Kendall College, having orchestrated an impressive turnaround of an Evanston-based liberal arts college that had fallen on hard times. Kendall's culinary and hospitality programs are now ranked among the top 3 in the United States.
Q: Howard, congratulations on your recent induction into the Chicago Area Entrepreneurial Hall of Fame. You seem like a talented guy who could do well at almost anything. What attracted you to entrepreneurship?
It's been totally clear since I was twelve that I would make the world's worst employee. My family was barely interested in keeping me around since I was so bad at taking direction. So I've always worked for myself. But I also thought that I would really like a chance to create some important and long-lasting things in my life. As it happens, while it could have been art or literature, it ended up being businesses. I couldn't be happier with the results.
Q: Most of our customers are entrepreneurs or small business owners. Do you have any good advice for them? What's the most important thing they need to do to succeed?
Forget about sleeping or learn to sleep faster. Focus on doing a few things very well. Do everything with a vengeance. Make room in your business for all kinds of people. Plan to make lots of mistakes — make 'em, fix 'em, forget 'em. Don't look back.
Q: That makes a lot of sense. On the flip side, what are some of the reasons you think entrepreneurs fail?
Entrepreneurs are like gas pedals. They need to partner with a good financial guy to be the "brake" on their enthusiasm and excesses. Otherwise, one day they'll just slam into the wall. As they say, "there are no skid marks in startups."
Q: Final question: If one of your kids came home one day and said they wanted to quit their job and start a company, would you advise them to do it?
I would ask them three questions. (1) Is the product or service to be provided by the new company "real"? That is, does it save time or money or increase productivity? (2) Is the problem that they are solving (or the solution they are offering) big enough to matter to a lot of people? You don't want to create "the greatest software never sold". And (3) Are they starting a business or just creating a product or service that's an add-on or "nice to have" extension of things that are already offered by major players.
And then I'd ask how much they want to borrow from Dad.