WHAT'S NEW? SWINGING ON A STAR, A NEW MUSICAL CELEBRATING JOHNNY BURKE, OPENED ON BROADWAY ON OCTOBER 22, 1995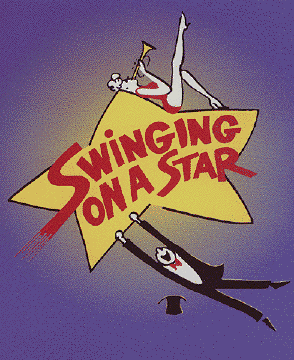 Swinging on a Star, a new musical, opened on Broadway on October 22, 1995. The show, a musical celebration of Academy Award-winning lyricist Johnny Burke, was conceived, written and directed by Michael Leeds.
Swinging on a Star features the lyrics of Johnny Burke, with music by Erroll Garner, Robert Haggart, Arthur Johnston, James Monaco, Harold Spina, Jimmy Van Heusen and Mr. Burke.
Johnny Burke was one of the most prolific and successful writers of popular song lyrics, writing and collaborating on over 550 songs, including those for 42 motion pictures and four Broadway musicals. He is the only songwriter to have had five of the top ten songs on the Hit Parade at the same time. He collaborated with composer Jimmy Van Heusen on the popular Road to...films, starring Bob Hope, Bing Crosby and Dorothy Lamour, as well as the movie, Going My Way, which featured the song, "Swinging on a Star," for which he won an Academy Award. Some of his other songs include "Pennies from Heaven," "Imagination," "What's New?" "Personality," "Polka Dots and Moonbeams," "Misty" and "Here's that Rainy Day." He has written major hits for some of our greatest recording artists, including Bing Crosby, Nat King Cole, Johnny Mathis, Tony Bennett, Frank Sinatra, Doris Day, Perry Como, Rosemary Clooney, Mel Torme, Lena Horne, Linda Ronstadt and Harry Connick, Jr., among others.
Swinging on a Star ran for several months at the Goodspeed Opera House in East Haddam, CT., (April 5-June 30, 1994) after selling out during its workshop production last summer at Goodspeed-at-Chester. During spring 1994, it played in a full production at the George Street Playhouse in New Brunswick, NJ, where it received excellent reviews and broke box office records.
Sets were designed by James Youmans, costumes by Judy Dearing and lighting by Richard Nelson. The show is choreographed by Kathleen Marshall, with musical direction by Barry Levitt and dance arrangements by Peter Howard. The cast of seven performers features Terry Burrell, Lewis Cleale, Eugene Fleming, Kathy Fitzgerald, Alvaleta Guess, Denise Faye and Michael McGrath.
Michael Leeds (Director) directed Swinging on a Star at Goodspeed-at-Chester and at the George Street Playhouse last spring. He began his career as a performer, appearing in six Broadway shows before turning to directing, choreography and writing. Off-Broadway, he directed and choreographed Hello Muddah, Hello Faddah!, for which he was nominated for a Drama Desk Award for Best Director and Best Choreographer. He also staged the successful production of Hello Muddah, Hello Fadduh! in Westchester, Kansas City, Miami Beach and Phoenix, where he was honored with an award for Best Choreography and Direction of a Musical. Other New York credits include directing and choreographing Lypinska: A Day in the Life at the Cherry Lane Theatre and the critically acclaimed musical revue, Showing Off. He has written and co-directed with Albert Stephenson the tributes to Hal Prince, Jule Styne and Kander & Ebb for the New York Drama League. Michael has directed for Playwrights Horizons and Steppenwolf Theatre Company, among others. He also directed the award-winning European premiere of Arthur Miller's Playing for Time at the Edinburgh Festival in Scotland. As a songwriter, Michael's work has appeared Off-Broadway in Martin Charnin's Upstairs at O'Neals and The No Frills Revue as well as on CBS's "The Comedy Zone." Recently, he directed and choreographed the Boston premier of Mating Habits of the Urban Mammal, a musical he co-wrote with Peggy Gordon and Brian Lasser.
Kathleen Marshall (Choreography) is the assistant choreographer of the current Broadway productions of Damn Yankees and Kiss of the Spider Woman (the latter also in London and Vienna). She also worked as the assistant choreographer on the Broadway and London revivals of She Loves Me. She recently choreographed Swinging on a Star at Goodspeed-at-Chester and at the George Street Playhouse. Kathleen directed and choreographed Chess for the Maryland Arts Fetival, for which she was named Best Director of a Musical by the Baltimore Sun. Other credits as an assistant director and/or assistant choreographer include The Mystery of Edwin Drood (national tour), Brigadoon (national tour), Camelot (Pittsburgh Civic Light Opera) and West Side Story (North Shore Music Theatre). She has also been the dance captain of the national tour of Cats.